Bossiney Haven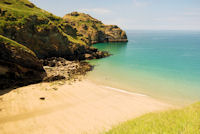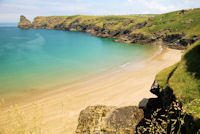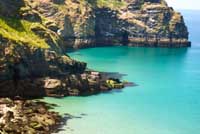 Bossiney Haven is a secluded cove, just north of Tintagel. There is no beach at Bossiney at high tide, but when the tide is fully out, there is a beach of golden sand which stretches around the other side of the headland (known as Benoath Cove) from the main inlet (Bossiney Haven). This makes it a lovely place to swim or paddle on a warm summer's day. There is also good snorkelling to the far left of the beach where a kelp-covered reef lies, and also to the far right when the tide is right out. The beach is not patrolled by lifeguards and combined with the steep steps down, it's not ideal for young children.
About half-way down to the beach, the coast path crosses the path. It's half a mile along the coast to the bottom of Rocky Valley so a circular walk is possible by walking back along the road between the Bossiney parking area and the top of Rocky Valley.
Current forecast
Directions by car
Drive into Tintagel and turn right, follow the road through Tintagel and out towards Boscastle. Just past Ocean Cove Caravan Park there is a small triangular parking area with space for about half a dozen cars and toilets. There is a field behind this which is available for parking in the Summer. From the triangular parking area there is a well marked footpath which leads down some steep steps to the beach (approx 15 walk).
Directions on foot
Head up Trenale lane next to the post box opposite Park Farm, cross straight over 2 junctions and a crossroads and down the hill. You can either take the footpath from the farm to reach the triangular parking area in Bossiney or alternatively go to the bottom of the hill, cross the road and walk down Rocky Valley and walk over the headland to Bossiney on the coast path. To create a circular walk you can come back through Tintagel or for an even longer walk via Tintagel Castle and Trebarwith Strand.
The Visitor Centre in Tintagel has a leaflet (costing 60p) for a 6 mile circular walk from Bossiney to Trevalga. Alternatively there is a circular walk to the beach from Park Farm on our walks page covering Bossiney and Tintagel.
Walks to Bossiney Haven
Photos of Bossiney Haven on Flickr
More information about Bossiney Haven