Sandymouth and Northcott Mouth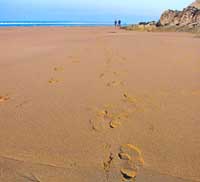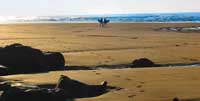 These are just to the North of Bude. They are pebble beaches at high tide with some rocky ridges as the tide starts to go out. At low tide these beaches join into a huge expanse of sand which stretches all the way to Bude.
The shipwreck that can be seen at low tide at Northcott Mouth at the northern end near Menachurch Point is of the SS Belém. The ship ran aground on the 20th November 1917 and 33 men were rescued. The Belém was a steam-powered cargo ship, originally built in Germany in 1890, and had recently been bought by a Portugese freight company. The visible remains include the propeller shaft and the boilers. Another section of the propeller shaft was used as the support for the barrel on Barrel Rock, on the end of Bude Breakwater.
Current forecast
Directions to Northcott Mouth
Turn right off the A39 to Poughill just past Bude either at Stratton or (quicker) a bit further along at Bush. Go through Poughill, bearing right at the caravan park and then left at the T junction. There is a small cark park on the left just before the beach.
Directions to Sandymouth
Follow the A39 past Bude. Just before Kilkhampton take sharp left turn to Stibb and Sandymouth. Drive through Stibb, past the caravan park and there is a National Trust car park, toilets and a cafe (open in the summer) just next to the beach.
More info