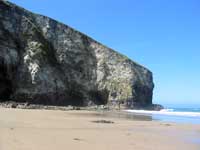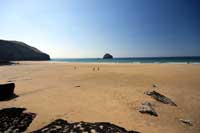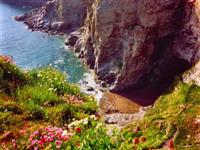 Trebarwith Strand is a sandy surf beach with rocky outcrops and has been awarded the European "Blue Flag" Award for cleanliness and bathing water quality. There is no beach at high tide but from a couple of hours from high tide onwards you can get down onto the beach (there is sand from mid tide onwards on a Spring tide).
Several small beaches span the bay at Trebarwith and at low tide these all join to form a mile long ribbon of golden sand.
The leftmost beach in the bay is Port William which is strewn with rocks except at the lowest point of the tide. Strong currents around Dennis Point make this a dangerous place to swim. The cliffs of the small point separating Port William from Trebarwith Strand are unstable and there have been a few cliff falls in recent years.
Trebarwith Strand is in the centre and is the lifeguard-patrolled area. It's sandy on the left and, to the right side, there are more rocks including some good rock pools. The large pool beside the rocks on the right side of the beach is known as "Horse Pool" from when horses were used to transport slate and sand, and this provided somewhere for them to cool off from their heavy work.
Lill Cove is the beach to the right of Trebarwith Strand, separated by rocks except at low tide. There is a gully between rocks that makes it possible to get through to Trebarwith when access is cut off by the sea (though this route isn't available at high tide). There is also a footpath up from Lill Cove joining the coast path which is accessible at all times of the tide. Vean Hole, further to the right, is a continuation of Lill Cove once the tide is a little way out, but is technically a separate beach.
Hole Beach is on the far right of the bay and apart from at the lowest couple of hours of the tide, Hole Beach is cut off by the sea. There is some good snorkelling along the right-hand edge of Hole Beach where boulders that fell from the cliffs of Dria and Bagalow quarries have been colonised by kelp.
NB. The only sane way to get on and off Hole Beach is along the sand at low tide. There is a very steep path (perhaps goat track is a better description) that leads up the cliffs to the coast path from Hole Beach which is unsuitable for children and indeed most adults! Unless you are an experienced rock climber and the weather is dry it's not recommended. Also it is not an easy climb over the rocks back to Lill Cove (it involves clambering up some steep rock faces and crossing rock platforms covered in slippery algae).