Tregardock Beach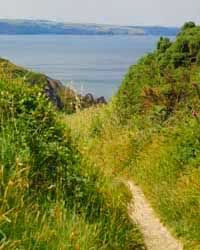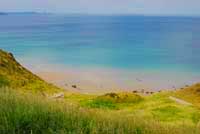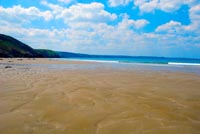 Tregardock is a surf beach similar to Trebarwith strand but access is by footpath only. There are beautiful views on the walk down to the beach over Port Isaac Bay and nice wildflowers. Swallows nest in the barn at the top of the footpath at Tregardock and can be seen swooping to catch flies. Due to the fair walk down and tide-worn steps at the bottom it's not suitable for young children or anyone not comfortable clambering down rocks. The path at the top can get very muddy if it has rained recently (though a drier path forks off to the right and you can walk up along the side of one of the fields for some of the way down).
Tregardock beach is about a mile along the coast from Trebarwith Strand, in the direction of Port Isaac and is reached via a public footpath that crosses the coast path to reach the farm at Tregardock. There is no beach at high tide at Tregardock. As the tide goes out, several small beaches merge into a long stretch of sand. A waterfall plummets from the cliffs at the back of the beach and there are some caves within the cliffs. The largest part of the beach is on the left and this gets cut off as the tide rises, so check the tide times carefully and don't get stranded when the tide comes in!
As it's a bit off the beaten track, not that many tourists go to Tregardock, so in the Summer it's guaranteed to be pretty quiet on the beach. However parking is very limited along the road at Tregardock (space for at most about 20 cars) so it's best to get there early if possible in the busiest parts of the Summer.
Current forecast
Tide times for Tregardock Beach
The nearest tide reading is Port Isaac which is pretty reliable. Don't use Boscastle as the harbour and river distort the tide reading.
Directions to Tregardock
Take the B3314 through Delabole. Take the right turning to Treligga (NB. not Treligga Downs) just past the left turning to St Teath. Take second left off the Treligga road signposted to Caragon. Park along the road near the farm. Directions down to Tregardock Beach are here.
Walks to Tregardock Beach
Photos of Tregardock Beach on Flickr
More information on Tregardock Beach