Bude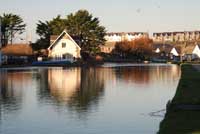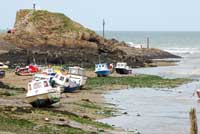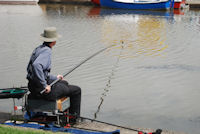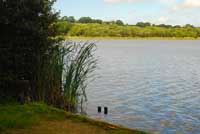 Bude is a small resort town on the northern part of the North Cornish coast. The Bedes, meaning wise men, attended the chapel on the rock and consequently the location was refered to as "Bede's Haven". In Cornish it was known as Porthbud. Locals pronounce it "bood" which probably stems from the Cornish version of the name.
In Victorian times, Bude was a popular seaside resort and many of the Victorian buildings remain. In more recent times, Bude has become famous for its Jazz Festival in August. There is a Tourist Information Centre in the main car park.
Whilst much of the rock along the Tintagel and Boscastle coast is slate, the rocks around Bude are sandstones and shales. Where the softer upended rock layers have been eroded by the sea, a series of ridges has been formed such as at the sides of the beaches at Widemouth, Northcott Mouth and Sandymouth, creating many rockpools.
Bude Canal runs from Helebridge, through the centre of Bude, to the sea lock near Summerleaze beach. The canal was built in the 1820s to carry sea sand and lime inland for use as fertiliser and the original canal system spanned 35 miles reaching Launceston. The canal closed in 1901 when competition from the railway, bringing cheap manufactured fertilisers, rendered it uneconomical. Today, roughly 2 miles of canal remain filled with water.
There are a number of nature reserves around Bude:
[an error occurred while processing this directive]
Walks in the Bude area
There is also a treasure trail for Bude
Photos of Bude on flickr
More info