Camelford and Slaughterbridge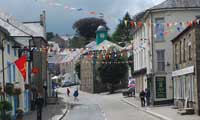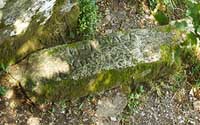 Camelford is a market town on the edge of Bodmin Moor. Camelford gained its status as a town in 1259 after being granted its first Charter by King Henry III. In the town centre, the library was once the Town Hall; the cobbled area that it stands in used to be the market square. Camelford Town hall was erected in 1806 over the Market House, where in the early 1800s, a wife could be bought for 2-3 shillings!
More about wife selling in Cornwall.
As you'd naturally expect from a market town, Camelford has some old pubs:
The Darlington is an 800 year old coaching Inn in the market square
The Mason's Arms is an 18th century building opposite the library
Slaughterbridge, located north of Camelford on the road from Delabole to the A39, a very old settlement which is said to take its name from two battles which took place nearby during the Early Middle Ages. A sixteenth-century traveler noted the discovery of the armour and bones of many soldiers while ploughing the meadow at Slaughterbridge. However the name of the bridge is ambiguous as 'Slaughter' could mean 'muddy' from the old English translation - a number of sites of archealogical interest still being excavated may confirm the battles here.
Just before you reach the bridge is the Arthurian Centre. Here, beside the river at Slaughterbridge is a 6th century memorial stone known as "Arthur's stone" inscribed in Latin and ogham (Celtic script) commemorating a Celtic chieftan. Legends link the stone to the Battle of Camelan where the tales say Arthur slay Mordred and was himself fatally wounded.
If you cross the bridge in Slaughterbridge and carry on up the hill you reach the aptly named Hilltop Farm Shop. If instead you take the right turn coming off the bend that goes up the hill, this leads you into Camelford (turn right at the bottom and the free car park is just on your right). At the crossroads on the way to Slaughterbrige is the British Cycle Museum which is based in the buildings of the old Camelford Station.
Camelford walks
Walks available from the tourist info centre
The tourist information centre in Tintagel has a leaflet (costing 60p) for a 7 mile circular walk from Camelford which has lots of information about the history of the area. The walk loops around the nearby hamlet of Tresinney before returning alongside the River Camel.
Photos of Camelford on flickr
More information about Camelford and Slaughterbridge