Port Quin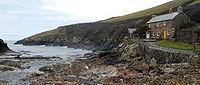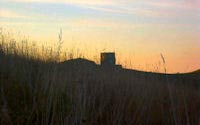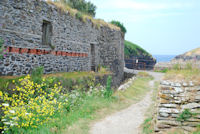 Port Quin is a tiny cluster of fisherman's cottages around a sheltered inlet in Port Isaac Bay. In the early 19th century, the settlement of Port Quin had upwards of 20 houses but was then suddenly deserted. There is a local legend that one night, a violent gale sank the entire fishing fleet, leaving 32 women widowed. The name is a corruption of the Cornish "Porth Gwynn" which means "white cove". Portwenn - the Anglicised version of this - is used as the name of the fictional village in the ITV Comedy Drama series "Doc Martin". The harbour itself was used for filming the 1970s Poldark series.
There is a small National Trust car park and a slipway which is ideal for launching kayaks at high tide. At low tide you'll need to clamber over a few small rocks which isn't too bad as the beach is so sheltered.
Just up the hill to the left of the beach there is a stile onto the coast path which leads to Doyden Point and then on to Lundy Bay.
On the end of Doyden Point at Port Quin, is a small castellated building known appropriately as Doyden Castle. Doyden Castle is a cliff-edge folly built in 1830 which was allegedly used for decadent gambling parties. The sheer cliff edges and (at the time) unfenced mineshafts would presumably have been more than a little hazardous for drunken revellers. It's now owned by the National Trust and let as holiday accommodation. The wine bins still remain on the lower ground floor.
There were two mines at Port Quin. Near Doyden Point, there are mineshafts of Gilson's Cove Mine either side of the coast path. This was a mixed lead/silver and antimony mine from which a little copper ore was also extracted. One shaft goes down to sea level, the other deeper. Between the two shafts where the coast path runs is the remains of the platform for a horse-powered winding device, known as a whim, which was used to haul ore up from the mine. Further inland is Port Quin mine which was solely an antimony mine.
Antimony is in the same chemical group as tin, lead and mercury and was used in alloys, particularly with these metals, including solder and printing lead. Like lead and mercury, it is toxic if ingested (which wasn't known at the time), so mining it was probably not a recipe for a long life.
Walks from Port Quin
Photos of Port Quin on Flickr
More info