Prince of Wales Quarry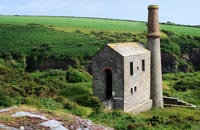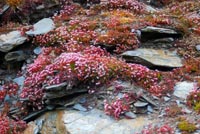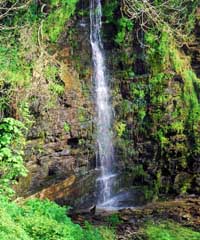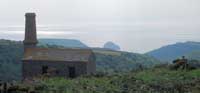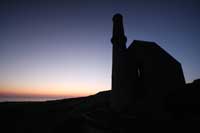 The Prince of Wales quarry is in Trebarwith Valley, overlooking Trewarmett. The quarry opened in 1871 but was only worked for just over 20 years, closing 1890s; the slate quarried here was blue slate from the Upper Devonian Penpethy Beds. A circular path now leads through the old slate tips, past the quarry pit (now a lake with a small waterfall) and up to the engine house which has good views of the valley and coastline.
Cornwall's iconic engine houses were built to house huge beam engines - a type of steam engine with a pivoting beam. This configuration was particularly suited to powering pumps to stop the quarry pits and mines from flooding as water trickled into them from above. Inside the engine house, steam from a boiler would push up a piston, causing the beam to tilt downwards, pushing the pump down into the shaft. The steam would then be shut off and cold water would be used to condense the steam within the piston back into water, creating a partial vacuum. Atmospheric pressure then pushed the piston back down into the vacuum, raising the beam and lifting water out of the shaft. The valves to apply the steam and cold water were mechanically automated, maintaining a steady rocking motion of the giant beam.
The engine house in Trewarmett is the only one preserved in North Cornwall. It was built in 1870 and the beam engine, installed in 1871, was used to drive a wire ropeway to haul slate, as well as pumping water out the quarry pit (which is now a lake). You can safely wander around inside (there are grilles covering the pit which once contained the beam engine).
The slate tips have now been colonised by wildflowers. Wild honeysuckle, gorse, foxgloves and heather make an attractive scented floral display throughout the summer. In June, some large elder trees are in flower - ideal if you fancy making elderflower cordial. In Autumn there are blackberries, sloes and elderberries.
Directions
Turn right out of Park Farm and head down Trewarmett Hill. Continue past the turnings on the right to Trebarwith Strand and Bowithick Hill leading up to Delabole. 100 yards past Bowithick hill there is a short track on the left leading up into the quarry with parking for a few cars. Details of the quarry trail are here.
More info