Rocky Valley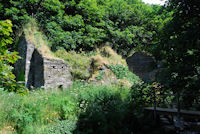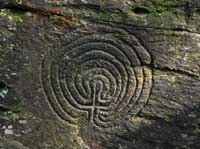 Rocky Valley, on the way out of Tintagel towards Boscastle, has been formed by the Trevillet river carving its way through the slate bedrock, and was mentioned in travel books as a place of exceptional beauty as early as 1897. The river cascades through woodland, before opening out into a canyon which meets the coast.
The entrance to Rocky Valley is (on foot) down the private road to Trevillet Mill - don't be put off by that - it is a public footpath and it's clearly marked when you get to the bottom of the road (more detailed directions are here).
On the rock face beside the waymark, about half way down Rocky Valley near Trewethett Mill, are some labyrinthine stone carvings. The age of the carvings is unknown: some historians think they could be as early as bronze age, others think they are much more recent.
At the bottom of Rocky Valley you can walk half a mile along the coast path to Bossiney Haven to create a circular walk, coming back along the pavement down the hill from Bossiney to the parking area at Rocky Valley.
Directions by car
Head through Tintagel towards Boscastle. As you leave Bossiney (the last part of Tintagel) you go down a hill. There is a small car park on the right at the bottom of the hill, and directly opposite this is the entrance to Rocky Valley.
Directions on foot
Head up Trenale lane next to the post box opposite Park Farm, cross straight over 2 crossroads and down the hill. At the bottom of the hill turn left and the entrance to Rocky Valley is immediately on your right.
Walks passing through Rocky Valley
Photos of Rocky Valley on Flickr
More information on Rocky Valley