St Nectan's Glen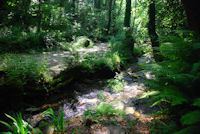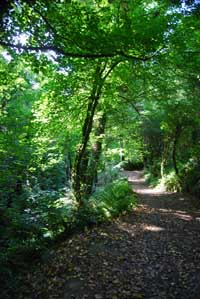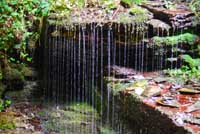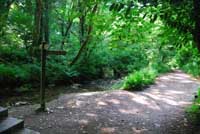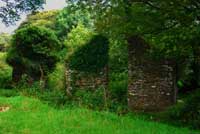 St Nectan's Glen is an area of verdant woodland near Tintagel, upstream of Rocky Valley along the Trevillet river. At the top of St Nectan's Glen is a 60ft waterfall known as St Nectan's Kieve (there is an admission fee to the waterfall). According to local legend, St Nectan is supposed to be buried under the waterfall, along with the treasure he collected. Pilgrims visiting St. Nectan's Shrine have used the Glen path since 500AD. There used to be a church dedicated to him, where there is now a Hermitage (with tea gardens during the summer). Once, it was said, a couple of witches lived in the chapel, and locals blamed every disaster on their evil ways.
Who was St Nectan?
St Nectan was the eldest son of the 5th century Celtic king Brychan. Having received a vocation to become a monk earlier in his life, he and many of his relatives sailed to North Devon. Nectan settled by a spring at Stoke, in the then dense forest of Hartland, north of Bude, where he lived as a hermit. It is claimed he also spent some time in the Glen near Tintagel, which at about 30 miles south of Stoke, is not inconceivable.
Directions and parking
In the village of Trethevy on the Tintagel to Boscastle road there is a car park (on your left if you are coming from Tintagel, just as you reach the top of the hill). From here follow the signs marked to the waterfall turning right to pass in front of St Piran's chapel. Follow the track down the hill which leads onto a path into the Glen. Follow the path upriver and you'll eventually reach the entrance to the waterfall.
A footpath also leads out of St Nectan's Glen to Halgabron on the road up above Rocky Valley which can be used to create a circular walk if you park opposite Rocky Valley or are walking from Park Farm.
Walks passing through St Nectan's Glen
Photos of St Nectan's Glen on Flickr
More information about St Nectan's Glen