Trevalga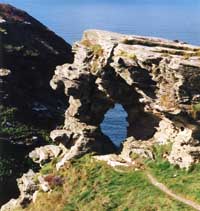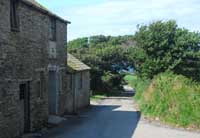 The entire village of Trevalga is owned by Marlborough College - a public school in Wiltshire. It was left in trust so that the village and parish would remain unspoiled for future generations. Consequently there are a number of original old slate buildings that have remained unchanged for many decades. In 2010, the college was told that it was breaking charity law by owning a hamlet, and thereafter placed the entire estate on the market causing uproar amongst the tenants, and became know as "The Battle of Trevalga" featuring in the national news and a radio 4 documentary. The legality of the sale is being disputed by the Trustees and Tenants of the estate and the sale has been suspended until this is resolved.
The coastline around Trevalga is particularly spectacular, with a number of offshore rocks which provide homes for seabird colonies. Guillimots, razorbills, cormorants and shags, puffins and several types of gull are known to nest here.
The Norman church at Trevalga, dedicated to St Petroc, makes use of a type of stone known as Blue Elvan or Greenstone which occurs in small pockets in North Cornwall and was highly valued by local stonemasons as it can be finely carved. The church tower was built a little later in the 13th Century and reworked in the 15th Century. The wheel-headed wayside cross next to the south door could be as old as 8th Century (just before Celtic Cornwall was conquered by the Anglo-Saxons).
Originally, the religion of the Cornish Britons was Celtic polytheism - a pagan, animistic faith, assumed to be led by Druids. Celtic Christianity was introduced to Cornwall in the year 520 by Saint Petroc, a Brython from the kingdom of Glywysing, and other missionaries from Wales, as well as by Gaelic monks and holy women from Ireland.
Walks passing through Trevalga
There are 4 geocaches around Trevalga courtesy of SMacB:
Photos of Trevalga on flickr
More info