Rocky Valley Short Walk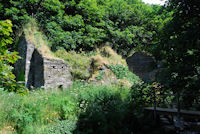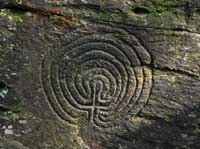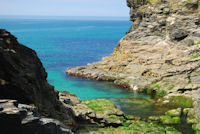 Distance:

0.75 miles

Walk grade:

Easy-Moderate

Start from:

Trevillet Mill

Recommended footwear:

walking boots
Highlights
Pretty riverside scenery
Labyrinthine stone carvings
Directions
Park in the layby next to the junction where a lane heads steeply uphill.

Rocky Valley, on the way out of Tintagel towards Boscastle, has been formed by the Trevillet river carving its way through the slate bedrock, and was mentioned in travel books as a place of exceptional beauty as early as 1897. The river cascades through woodland, before opening out into a canyon which meets the coast.

Cross the road and turn left. In about 20m, turn right down the private road to Trevillet Mill in the direction indicated by the public footpath sign.
Cross the footbridge and follow the path along the fence to a footbridge over the main river.

The Trevillet River runs for approximately 3 miles from its source on the downs near Condoldon Barrow, down the steep valley situated between Condoldon and the line of hills at Trethevy. The river has a population of Brown Trout and there was once a trout farm, breeding Rainbow Trout, at Trevillet Mill. The Cornish name for the river is Duwy meaning "dark river".

Cross the footbridge and turn left, following the path along the river to a waymark next to the ruins of a mill.

Watermills were first documented in the first century BC and the technology spread quickly across the Roman Empire with commercial mills being used in Roman Britain. By the time of the Domesday survey in the 11th Century, there were more than 6,000 watermills in England. During Norman times, the feudal system lead to a greater proliferation of mills with each manor being self-sufficient with its own mill.

From the waymark, follow the path between the buildings and around to the right to a footbridge. Cross the footbridge and turn right, following the path along the river until you reach a waymark above another footbridge.

On the rockface beside the waymark, about half way down Rocky Valley near Trewethett Mill, are some labyrinthine stone carvings. The age of the carvings is unknown: some historians think they could be as early as bronze age, others think they are much more recent.

From the waymark keep left follow the path uphill
Take the path off to the right to reach the rocks at the bottom of the gorge.
For more information see this page on Rocky Valley
Map of Route

Do more with this walk